Rev. T. E. Martindale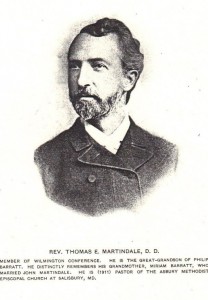 The Rev. Thomas E. Martindale was the key source to Rev. Robert W. Todd's "Methodism of the Peninsula", for his sermons and stories about Rev. Frost Pollitt.
Rev. Martindale was born in Camden, Kent County, Delaware on September 9, 1843 and died on February 16, 1917 in Salisbury, Wicomico County, Maryland, and is buried in Parsons Cemetery, Salisbury, Maryland.
Rev. Martindale was appointed an Elder in 1864 in the Philadelphia Conference when he was just 21 years of age. In 1869, the Wilmington Conference was formed and at some point, he served as pastors in the Conference.
The year in which he met the Rev. Frost Pollitt is unknown but most likely was in the earlier years of his calling but when Frost was already at an advanced age. In 1864 when Rev. Martindale first entered the ministry at age 21, the Rev. Frost Pollitt was already 75 years old and known as Old Man Frost. As a Wilmington Conference Secretary and historian, he chronicled some of the sermons and stories of the Rev. Frost Pollitt.
Reverend Martindale was pastor of the Methodist Episcopal Church in Dover, Delaware one of the many churches he served. He was described as being cultured, refined and an accomplished christian gentleman of the finest type. He was a cheerful and devotional spirit. There was combined in him the unusual: the strong preacher and the good pastor. While he joked with men, when he approached the Deity his language was chaste, pure and tender. He served as Chaplin of the Senate of Delaware. He also served as Trustee of Dickinson College, Carlisle, PA. He was minister of Asbury Methodist Episcopal Church in Salisbury, Maryland from 1887 to 1890 and later from 1907 to 1915.
During the Civil War Dr. Martindale served in the First Delaware Volunteers, United States Army, and spent some months as a Private, seeing actual hostilities. Later he became Chaplin of his Regiment. He was an active member of the Grand Army of the Republic.
On May 13, 1867 he married Anna M. Hazzard in Sussex County, Delaware. They had three children: Mrs. May Barratt Bryan, Camden, New Jersey, Lucinda, Boston, Massachusetts, who never married, and Ernest who died in Middletown, Delaware, April 14, 1879, six years old. His wife, Anna, who was a great helpmate died December 2, 1889.
On April 13, 1893 he married Sallie Ellen Woodcock 1865-1944. She was about the age of one of his daughters.
She also was a great help to him in his work. His choice proved to be a very happy one, and she at once entered into his work, for which she was so well fitted. There is a small tombstone in the plot where his parents are buried with the following: Infant son of Reverend and Mrs. Thomas E. Martindale August 22, 1898. Rev. Martindale died of a heart attack while at home.
Notes by Joan Martindale Roth (July 1, 2010), Updated by L. Paul Morris, Jr. (February 3, 2014)