William Pollitt
If a researcher looking for their African American ancestors is able to discern who was the slave's master at the time of the slave's manumission or freedom, I feel they are very lucky. We are blessed in the State of Maryland that the Land Records are now online and that in large part, they contain an abundance of documentation for the sale and manumission of slaves. However, knowing for certain that the listed Negro Ann, or any other person with a fairly common name, was your ancestor in a Bill of Sale or Manumission can be very difficult.
Through a series of events, I have been able to trace one African American family back to about 1756. Whether that original person was born in Maryland, the Indies, or Africa, is unknown and most likely will never be known.
Prelude
I will attempt to tell the story first of how I connected Frost Pollitt to William Pollitt. So it is easier to start the story in 1969. About that year, when I was about twelve years old, I started to ask questions about my heritage. The seed of inquiry was planted when my parents explained that my father was Louis Paul Morris who was born in Chester, Pennsylvania and my mother was Betty Jo Morris, born in Tahlequah, Oklahoma, and they were married by Rev. O A. Morris, of Tahlequah, Oklahoma. Supposedly, none of the parties were related. Later, after my parents were married they realized that my father's paternal grandmother was Georgie Emma Hilghman Morris and my mother's paternal grandmother was Georgia Etta (Sumpter) Morris. So both of their paternal grandmothers were Georgie Morris.
I believe the first time my parents took me to the Eastern Shore was when I was about 1964 to see my father's Uncle Howard F. Morris, in Delmar, Delaware. I am not sure when we first visited Cousin Dorothy C. Morris or Uncle Upshur W. Morris but it was before 1967. I knew we had relatives on in Delaware and Maryland and Salisbury was the main destination. We almost always ate at Uncle Howard's house or Johnny and Sammy's in Salisbury.
When I first met Cousin Dorothy it was a delight. As a teacher, she loved children and knew how to relate to them. But as family, she knew how to intrigue us. She introduced us to the "James Morris' desk". It had secret compartments and vey old books that we weren't allowed to touch. Dorothy was a talker and she knew how much she paid for everything down to the penny. And she had this wonderful accent so different from anyone I had heard. I can remember the way she said, "about the house". It would rhyme with Stout. Not sure how else to describe it.
At one point she showed us a picture of James Morris. Her father was Levin Merrill Morris and she knew her grandfather, Thomas Covington Morris. Thomas' father was James. This made James Morris my third great grandfather and in the words of Dorothy, "Isn't it grand!?!". And always followed by laughter. Dorothy was fun to visit and she was my first step to unlocking my family's past.
The big question – was my father related to my mother. Bottom line. No.
I have some notes when I was in 9th grade about my earliest family research notes. It isn't much but it was a foundation. In high school, I remember asking my mother about her family. But it was in my second and third year at West Point that I made a lot of progress.
The first mention of Frost
I found the obituary for my third great grandfather, James Morris. The obituary, from the November 1st 1873 edition of the Salisbury Advertiser in Salisbury, Maryland, read:
Mr. James Morris, of Nutters District, in this county died yesterday morning in the 93rd year of his age. Mr. Morris was perhaps the oldest man in Wicomico Co. He has been a member of the Presbyterian Church for about 60 years and a Ruling Elder for over thirty years. He was a large slave holder before emancipation, and his humane treatment of his servants, so firmly attached them to him, that the wife of the Rev'd Frost Pollitt, refused to leave his service when her freedom was offered her.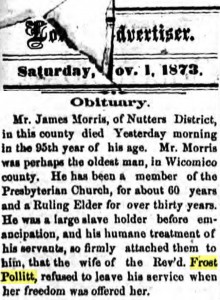 This obituary was discovered at the Wicomico County Library on microfilm about 1980.
What I knew at this point was that a Rev. Frost Pollitt lived near James Morris and was somehow connected to my Morris family. He obviously was a preacher, one important enough to merit mention in my third great grandfather's obituary in 1873 and he had a wife who apparently died as a slave belonging to James Morris.
So the question arose, "Who was Rev'd Frost Pollitt?" I would spend the next twenty-nine years trying to find out. Unbeknownst to me, there was a lot of information about Frost. I just hadn't found the sources yet. What I did know, from Cousin Dorothy and her cousin, John Ed Morris that James Morris' mother was a Pollitt and he was related to other Pollitt's as well.
Pay dirt in a tattered old bible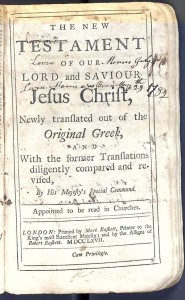 After the death of my Cousin Dorothy in August 1985, my family was permitted to go through her house for family "heirlooms" and things that she had mentioned in letters that we were to get. Of course, the James Morris desk was the heaviest item and had a treasure chest of books in it with family members names penciled or inked in. Journals dating back to 1812 were also found in the desk along with some in the 1860's. The biggest find was by accident when my mother was perusing a china cupboard in the dining room full of books. She pulled out one very old book without a front or back and handed it to me. She said, "Paul, this looks pretty old. Take a look."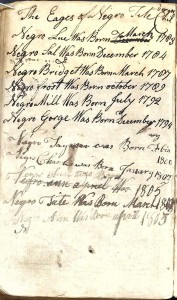 What I found was an old bible. It had the New Testament front page in place and on the reverse of it was a full page of names and the months and years of people's births. It was pretty obvious that this was a list of Slaves and at the top was, "The Eages of Children of Titus" followed by about ten names, months and years. One popped out at me – Frost borned October 1789. Later I was able to decipher the publication date written in Roman numerals as being published in London in 1767. It also had on the New Testament front page another name that I was very familiar with, Levin Morris and his birth date, May 29th, 1782. When I got home I was able to confirm that this was the exact date of birth that I had for Levin Morris who was James Morris' brother. Definite providence. It would take me until about 2009 to do the research to put many of these events in order and make sense of them.
This was much more than a tattered bible. It had slave data in it and perhaps at one point had the original data that my late cousin, John E. Morris, of Fruitland, had transcribed to typewritten pages in the 1930's about my Morris and Pollitt families. But the slave data sparked my interest because it mentioned Frost. And this Frost was most likely the Rev. Frost Pollitt.
This was the key the Titus family and his children – a 1767 Bible found in 1985 in Salisbury, Maryland.
Officially this bible is referred to as the Thomas Pollitt Family Bible, Printed by Mark Bafkett, London, England, 1767. On a trip to Annapolis in 2012, I showed this bible to the staff of the Maryland State Archives. They were kind enough to authenticate this as a book most likely printed in London of that period, given its paper, binding, type face and size. I was most appreciative of their time and insight.
My 4th great grand uncle William Pollitt
About 2009, I was able to research and find more information about James Morris' family. From James Morris' family bible records, I knew that James had an uncle, William Pollitt. Not only was William Pollitt mentioned in the bible but the time of death was recorded. No one else's death, in all of the bibles I had, was recorded with such precision.
William Pollitt son of Thomas Pollitt and Catron his wife was born June 10th 1756 and departed this life Thursday January 4th 1816 at twelve Oct aged 59 years 7 months 25 days
Additionally, it is recorded who William Pollitt's parents were. William Pollitt must have played a special role in James' life.
He did.
The Worcester County, Maryland Probate Records contain William Pollitt's will, an Inventory of his Personal Property, a record of the Sale of some of his slaves and the distribution of his estate. After a careful study of these records, I found that the majority of the slaves listed on the Thomas Pollitt Family Bible were also listed in the Inventory of the Personal Property of William Pollitt and three of them were mentioned by name in his will. Titus and his wife Rachel were given their freedom as well as a surname, Frost. They were also granted a tract of land called Carey's Folly containing Fifty acres of land and finally, they were granted their son, Titus.
I give and bequeath unto negro man tite and his wife Rachel ther freedom forever and ther names shall be Titus & Rachel Frost. I then Give and bequeath unto negro Tite frost one tract of land called Careys folly containing of Fifty acres of land taken up by one Margaret Carey to him his heirs forever. I Give and bequeath unto Tite Frost his son forever.
We see that the twenty slaves listed in the Inventory were not just those in the bible but eight others who may or may not have been related to Titus and Rachel on February 14, 1816.
| | |
| --- | --- |
| 1 negro man named Titus age 60 left free | 60.00 |
| 1 negro woman named Rachel age 50 left free | 30.00 |
| 1 negro boy named Titus age 8 years legacy | 50.00 |
| 1 negro man Littleton age 50 years | 125.00 |
| 1 negro man named Harry age 55 Sickly | 50.00 |
| 1 negro man named Saul age 46 Sickly | 80.00 |
| 1 negro man named Moses age 45 Sickly | 250.00 |
| 1 negro woman named Lett age 40 Sickly | 80.00 |
| 1 negro woman named Lieucy age 35 | 200.00 |
| 1 negro man named Frost age 26 | 340.00 |
| 1 negro woman named Milly age 24 Sickly | 150.00 |
| 1 negro man named George age 21 | 340.00 |
| 1 negro woman Tammor age 16 | 225.00 |
| 1 negro boy named George age 13 | 275.00 |
| 1 negro boy named Charles age 13 | 275.00 |
| 1 negro giurl named Anne age 10 | 175.00 |
| 1 negro boy named Sandy age 5 years | 125.00 |
| 1 negro Boy neamed Peter age 4 years | 100.00 |
| 1 negro Boy named Daniel age 2 years | 80.00 |
| 1 negro Gurl named Eliza age 7 years Legacy | 100.00 |
Further, we see more detail on what happened to many of these slaves in the Sales and Distribution of William Pollitt's estate.
Worcester County Orphan's Court, Liber MH 23, folios 295-297
Distribution of the estate of William Pollett
Sale and distribution of negroes

William Pollett's Distribution of Negroes

We the subscribers in compliance with an order and appointment of the Orphans Court of Worcester County after being duly qualified a certificate of our said qualification is hereto annexed to confirm our said appointment to divide the negroes belonging to the estate of William Pollett dcd now in the hands of James Morris his Executor we do hereby Certify that after giving due notice to all the parties [illegible] we met on the day of at the place appointed where the said Executor went on to sell among the heirs concerned to the highest bidder for the following sums to wit:

 

| | |
| --- | --- |
| 1 Negro man named Moses aged 47 | – $310.50 |
| 1 Ditto do named Frost aged 28 | – $401.00 |
| 1 negro woman named Lucy and child aged 27 | – $310.50 |
| | $1022.00 |

We further Certify that after the sale of the aforementioned negroes we proceeded to value and appraise the remainder of Negroes belonging to the estate of said deceased as followeth – to wit –

| | |
| --- | --- |
| 1 Negro man named Littleton aged 32 years | 90.00 |
| 1 Ditto named Saul aged 48 do | 80.00 |
| 1 Negro woman named Lett aged 42 do | 75.00 |
| 1 Ditto named Emelia aged 26 do Sickely | 150.00 |
| 1 negro man named George aged 23 do | 300.00 |
| 1 negro woman named Tamar aged 18 do | 250.00 |
| 1 negro boy named George aged 15 do | 300.00 |
| 1 Ditto do named Charles aged 15 do | 300.00 |
| 1 Ditto do named Sandy aged 7 do | 175.00 |
| 1 Ditto do named Peter aged 6 do | 150.00 |

folio 296
February Court 1818

1 Negro man named Harry aged 57 do
60.00
1 Ditto named Saul aged 48 do
80.00
1 Negro boy named Daniel aged 4 do
110.00
1 Negro boy named William aged 18 months
75.00
1 Negro girl named Ann aged 12 do
200.00
1 Ditto named Eliza aged 9 do
125.00
1 Negro man named Titus left free
60.00
1 Negro woman named Rachel free
30.00
1 Negro boy named Titus free
30.00
$2580.00
The widows third part of the above negroes in value being
The Sum of eight hundred and sixty Dollars
860.00
$1720.00
Which sum deducted with the deduction of the free negroes
The sum of one hundred and forty Dollars
140.00
$1580.00
Negro Eliza legacy to be deducted
125.00
Which leaves the sum of
$1455.00




 

To be divided between the heirs which each respective share or part is the sum of five hundred and eighty five dollars to each heir. We further Certify that after the foregoing Proceedings hereto fore stated we proceeded to make division of the aforesaid negroes between the heirs in the following manner – To wit – first of the widow Sally Pollett by and with, her own consent and choice –

Sally Polletts part of negroes as Choosen


| | |
| --- | --- |
| 1 negro man named George aged 23 years | $300.00 |
| 1 negro woman named Tamor aged 18 do | 250.00 |
| 1 negro boy named Charles aged 15 do | 300.00 |
| 1 negro man named Harry aged 57 do | 60.00 |
| | $910.00 |




 

The foregoing negroes amounting to Fifty Dollars more than her third part the widow pays the sum of fifty Dollars to the other heirs –

Secondly of James Morris part of negroes as consented to – (1 negro)

Folio 297
February Court 1818

| | |
| --- | --- |
| 1 negro man named Saul aged 48 years (sickly) | $80.00 |
| 1 Ditto named Littleton aged 32 do | 90.00 |
| 1 negro woman named Lett aged 42 | 75.00 |
| 1 Ditto named Emelia aged 26 do (Sickly) | 150.00 |
| 1 Negro boy named William aged 18 months | 75.00 |
| | $470.00 |




 

Thirdly, Levin Morrises part of negroes as consented to –


| | |
| --- | --- |
| 1 negro Girl named Ann aged 12 do | $200.00 |
| 1 Do Boy named Daniel aged 4 do | 110.00 |
| 1 Do Boy named Peter aged 6 do | 150.00 |
| | $460.00 |




 

Thirdly, James and John Polletts part of negroes –

| | |
| --- | --- |
| 1 negro boy named George aged 15 do | $300.00 |
| 1 Ditto do named Sandy aged 7 do | 175.00 |
| | $475.00 |




 

In witness, whereof we have hereunto subscribed our names and affixed our seals this 4 day of February 1818 –

 

Eben Christopher Seal
James Fookes Seal

We the subscribed do hereby certify that we and each of us do severally agree to the mitt in and foregoing division and distribution of the negroes therein named Witness and hands and seals this day of 1818

Eben Christopher
Geroge Maddox

her mark
Sally X Pollett Seal
James Fookes Seal
James Morris Seal
Levin Morris Seal
James L. Pollett & John E. Pollett Seal

February Term 1818 (Ordered by the Justices of the Orphans Court of Worcester County, that the foregoing Distribution of the negroes belonging to the estate of William Pollett deceased be and the same is hereby confirmed –

 

Matthew Hopkins Reg. Wills for Wor.Cty
It is not clear who purchased Frost when he was sold in 1818. It is not until 1828 does he reappear in the Maryland Land Records in a manumission record from James Morris. So we may conclude that James Morris, William's nephew purchased Frost from the estate sale. It is unclear why four of the twenty slaves were sold. Perhaps this was to raise cash to settle some debts. Regardless, Frost and his brother George were appraised the highest in the Inventory at $340 each and Frost was sold with the highest value of $401.
William Pollitt was a very wealthy man when he died on January 4, 1816. His Personal estate was appraised at $5,845.08 dollars, of which slaves accounted for $3,140.00 of the total or 53.7% of the total. To the reader some perspective, his highest value crops were about 430 bushels corn @ 87 cents a bushel totaling $374.10 and about 2,500 pounds of potatoes @ $12.00 per hundred totaling $300.00. I reckon that he needed a lot of barn storage to store that much corn and potatoes. He also owned 7 cows and one bull, 31 head of sheep, seven horses, 24 head of geese, a Cyder mill and Trough, and 18 gallons of brandy. From his wood mill, he had over 5,300 feet of wood planks among other timber items. Additionally, his house contained such items as a mahogany Dining Table, a Desk & Book case, and Five Feather Beds with counterpanes, blankets and sheets as well as seven bed quilts. To get around he had a Carriage and Harness. This is just an overview. His entire inventory can be seen in the image to the right.
Additionally, from his will we learn that he owned at least the following land:
Hacklah and Venture, 150 a. purchased from Robert Ellagood in Somerset County
Seven hundred acres of Land with my dwelling Plantation laid off in it
Mills and lands that I Bought of Robert Nearn and his wife Polly Nearn
Tract of land called Careys Folly, 50 a., taken up by one Margaret Carey
Remainder part of my lands and mills
So the minimum of this land was 900 acres plus the mills and land bought of Robert Nearn and his wife Polly Nearn and the Remainder part of my lands and mills.
Frankly, I have not had the time yet to track down and transcribe all of the land that William Pollitt owned. Those that are named are fairly easy. Those that are not and grouped as mills represent a challenge and a lot of work.
Thanks to Michael Hitch, author of Adam Hitch: Old Somerset in ye Province of Maryland, and collaborator in the Old Somerset Land Record Database (John Lyon), was able to assist me in locating James Morris' plantation house that he inherited from his uncle, William Pollitt. I believe that James and his family moved into William's house after his uncle's death in 1816. The plantation is located about a two miles south of Fruitland just off of St. Luke's Road near Milton Mill Road in current Wicomico County, formerly Worcester County, Maryland. Mike remembers the area well as he and a friend explored a possible caved in cemetery near the house.
What is exciting is that we can be about 98% certain that this is the land where Titus and Rachel live with their children including Frost.